February 23rd, 2022
Talking about Luck
Last week I was pleased to see one of my paintings that had a positivity message "100 Birds" had got sold.

This morning, on starting up my macbook,my inbox greeted me with a New Sale of FAA painting of mine. As luck would have it, it was the same painting that got sold for the second time in a single week.

It was just yesterday when I unpacked 2 of my paintings from the same lucky series that Highlighted Fengshui, wellness living, giving etc. These 2 paintings also I believed brought me luck in 2020 when I shared a 2020 art award in the region and got over the pandemic with paid work as a consultant surviving while all around everything was brought to a standstill.

As I am no superstitious person, the only explanation I can find for the sale of these paintings is that everyone out there are in search of a positive meaning in life. That is why my dear buyers and awarders have found their way into recognizing my offering that spreads a message to the beholder to be giving and kind to one another. That's a joy to think that all of us are in this pool to make it together. Thank you for passing by!
May 16th, 2021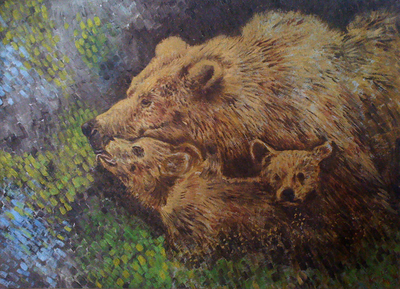 In 2009 a year after I returned from my adventurous USA tenure as a contractor in the Design Industry, I started out full-throttle, in my fine arts journey, both in real-life and online.

My first art show was a group show way back in 1991 when I showcased my ever-so-favorite painting on canvas one of my oldest pieces that I made with the only brand of Indian oil paints available those days pre-internet days (attached here).

This original is still with me, that I have carried miles away from my home country as I work and live in Dubai as a long-time creative entrepreneur. The prints of this painting is being sold from time to time from my online art shops and is also a proud occupant of a cover design of a mother's day journal released/published on Amazon only last week on Mother's day.

Come 2008, when I returned back to Dubai after leaving my job in the USA. The reason I left Was because I wanted to still work-up slowly in a non-commercial setting, whereas I felt that in the United States of America, I would just get lost in the system, in the process of adhering to a new nation's expectations. Fearing that I may lose my edge in the artistic industry, I returned to some pleasant times. I received a lot of commissions and interests in not only the now technology-based art but in the traditional fine art that still has been a silver-lining today.

That is when I realized stronger; my need to never abandon the analogue-traditional-mechanical skills one may have developed as passions from birth. So I decided that while sharpening my skills and keeping abreast in my traditional skills that I continue making a living out of my technology-driven expertise, knowing very well that the demand for that is soon diminishing. So while that took its course for commercial art and advertising business' to become lesser and lesser, By-the-way, let me swoop in this very interesting thought – "do not despair when tech-related jobs thin out, do not forget that we humans are creatures of habit-so as we practice and try to keep up with technology we start doing our tech-related work for example I am also a computer-animator doing animation to make my living 9-5 from 1994, over and over and over that has made me be able to do animations as if it is second nature like an involuntary muscle or human reaction. I don't have to spend a lot of time thinking or planning or researching. In fact most of my animation work days are spent so resourcefully that while I work I am listening to useful podcasts or tutorials or documentaries or even music that I have would have never had opportunities if I was working as an accountant or marketing personnel or any other vocation.

While this grand phenomenon was happening of just doing my animation that was a passion born out of my first love art and settling in a profession, I grew my clientele and authority in my fine art and contemporary art business. I had the luxury to not ever promoting or commercializing my traditional art offerings. My clients in fine art who wanted to just pay for my arts worth grew. By 2012 I was already good with a community to also perform my fine art in front of 1000s of people. So this helped evolve a live artist, a contemporary artist and a writer and blogger. What better way to connect with a community! To give back to the world I thought.

Hence in our current post-covid vaccine era and with the scare of the 3rd and 4th wave of covid and erratic lockdowns all over the globe, I found answers from the chaos.

Last week I went fully online with my businesses with my blogs, book publications, authoring and creating multiple marketplaces. And folks, I am so glad to be in this Pandora's box of social media just waiting for we artists to take advantage of.

There are no seniority, superiority, inferiority, and ageist tendencies in the online world. An 80 year old can work just as efficient as a fresher 20 year old or even a 13 year old in the online space. Co-mingling with each other and exchanging a world of experience with spontaneous modern thinking and each one of us have a great take-away always with the right attitude. The art just sells and nobody cares who and which race it came from. It is all in the eyes of the beholder.

So this is my message to all my fellow artists.

Among the 8 billion and odd of the world population, there's got to be one, a couple or a few as fans of your exact type of art or writings, who would love to purchase and enjoy our works of art.

So long till my next thoughts of promise in our new world of virtual work. .:o)



July 5th, 2019
Dear artist friends on FAA and around the world.

It is my pleasure to do my very first blog post here after years of enjoying the FAA membership. The reason is passionate in cause that I can't afford to ignore anymore. I am a realistic contemporary artist, maturing into abstraction because of her evolving spirituality. I wanted my realism fascination to be my defining force into my world of abstraction. And so, I find a profound link to where I am in my life right now and find it is a time of reality, yet striking up as surreal. Abstract emotions and a need for everything to make sense are finally bringing out my abstract themes, styles and colours more meaningfully that I am almost ready to make my big launch into full-on abstract paintings that finally feels like giving back.

Nuff said about my philosophies :o), let me take you to the burning issue that brought me here today in the first place. It is indeed a dark reality for we artists and felt as a force towards the better good I'll let know what I stumbled upon today. That I want to take on to address, with the help of you contemporary artists and original art lovers.
This is the painting I feature today:
https://fineartamerica.com/featured/burj-khalifa-tallest-building-dubai-remy-francis.html

This painting I have on FAA is one of my paintings I made of the current tallest building in the world - Burj Khalifa pointing as far into the clouds atop Dubai in a country called the United Arab Emirates where I am based in practising my art for about 18 years now. The past week I was shocked to see my painting put up on sale by someone else with his name and number so proudly broadcast. When I picked up the phone and heard a person with a Chinese accent on the other side of the phone, the name did not reflect the accent, saying he is the right person I am speaking to who can deliver my very painting signed with my name "Remy Francis" to me here in Dubai, I could not believe what I heard.

When I went on to say that I am the artist, that he is trying to sell my painting he has hacked, he began to wash off his hands stating he is only a delivery staff and the company Wbaby is in China. After I gave him a warning that this is considered serious if I report to the authorities here, I found he was quick to change the name to "Other" from "Wbaby" and till date he has kept my painting up there on Amazon. He has the fake goods store named "other" sitting there selling all these random items not focussed on art but toys and other thingamajigs.
This is their link with my painting still on amazon.
https://www.amazon.ae/Burj-Khalifa-Dubai-Tallest-Building/dp/B07NDYNJHW/ref=sr_1_5?keywords=tallest+building+in+the+world+burj+khalifa&qid=1562012439&s=gateway&sr=8-5

The link to the hacker is www.amazon.ae/s?rh=n%3A11497631031%2Cp_4%3AOther&ref=w_bl_sl_s_ap_web_11497631031
An actual hacker sitting on a legitimate space with stolen items to sell!?

I made a formal report to amazon and just received a local contact number from amazon to report this.

I just found one more that encourages everyone to download free HD wallpaper of my painting:
https://vidalcuglietta.com/red-bird-painting/163879/red-bird-painting-unique-red-bird-painting-by-remy-francis/

This has been happening to millions of creators out there. For years I am grappling with this epidemic of a large group of people out there from various parts of the world who are out to copy our original work be it my animation, creative ideas, storyboards, concepts. It's a tug-of-war every single day that today I no more deal with new enquiries who do not come with reliable references. They contact with the idea to ask me to do work for free, not different from any hacker who wants to steal our work we have dearly spent hours, days, months or years to create. It starts from the grass roots this piracy issue. And what can we do to stop this is my concern with writing this post.

Dumb-founded! I wonder what do we do? how do we survive in the face of such atrocity? People make a living only from this!? It is no more on the sly but in plain sight. I for one, have for years been working for an alternative income stream because the way we artists are victimised is so dangerous. When creators, manufacturers and inventors are cornered to this extent when they are recognised yet with nobel prices and awards to recognise their talent. They need long-term measures taken to sustain within their careers.

This is an on-going debate not solved for years unless populations have a change of heart and empathise and call out all the wrong-doers hidden and out in the open.

Thank you all for taking your time to read and reflect with me. I would love to hear your ideas how to circumvent this. As am sure many have been hacked in volumes of their intellectual property and the menace is too huge.

Remy Francis